Pushing liquid Leading Edge Protection to the edge
The leading edge of a wind turbine blade is exposed to extremely high airflow speeds, even exceeding 300km per hour. At these speeds, impact from rain may cause significant coating erosion or even composite damage. In severe cases the erosion may lead to a loss of aerodynamic performance and a 2-3% drop in Annual Energy Production. This loss of performance and need for maintenance makes leading edge erosion one of the wind industry's most significant maintenance costs and performance challenges.

The solution? Hempablade Edge 171. A fast cure, solvent free coating from Hempel. Simple to apply and provides exceptional erosion protection at some of the lowest dry film thicknesses on the market, Hempablade Edge 171 delivers the best liquid Leading Edge Protection (LEP) in the industry.
Stronger blade protection made simple
Exceptional Rain Erosion Protection

Hempablade Edge 171 is designed to provide exceptional performance against rain erosion. This extends intervals between repair, giving you more turbine uptime and fewer maintenance costs.

Boost your application productivity

Hempablade Edge 171 requires a dry film thickness of just 150μm – one of the lowest dfts of any liquid LEP on the market. This lowers paint consumption, reduces application time and cuts drying time, so you can coat more blades in each shift. And, with simple application with brush or roller, you get a high-quality finish – fast.

Extend your maintenance season

High application tolerances mean Hempablade Edge 171 can be applied in temperatures from 5-35°C and in high humidity. This enables you to work in a variety of conditions, extending your maintenance season and workdays. The result? Your application teams can keep working with high productivity for longer.

High Annual Energy Production year on year

Thanks to its unique formulation, Hempablade Edge 171 provides exceptional protection against abrasion, pinhole erosion and composite damage on a blade's leading edge. This ensures the blade can extract the maximum energy from each rotation for its entire service life, maintaining high Annual Energy Production year after year.
Don't just take our word for it.
Hempablade Edge 171 is proven to protect against rain erosion in the toughest conditions. As the only coating supplier with an in-house DNV-GL RP-0171 complaint Rain Erosion Test facility (RET), we have put Hempablade Edge 171 through more than 400 exhaustive test sessions and assessments to optimise the product development and LEP validation process.

The results speak for themselves.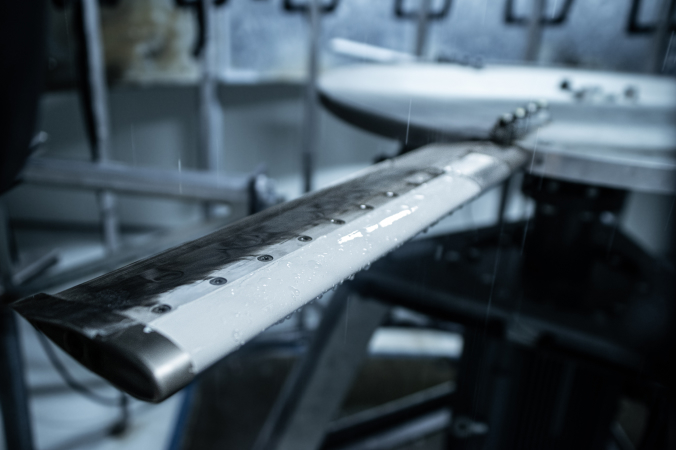 Giving you the leading edge
When you work with Hempel, you work with the wind industry's most experienced coatings supplier. We have been part of the wind industry since the very beginning. Today, we supply high-performance and trusted coatings for every area of a turbine, all proven to extend the service life in the toughest conditions.

We also know that application efficiency can give our customers the edge. So, we also work closely with manufacturers, maintenance suppliers and applicators to reduce costs, waste and emissions during application. The result is a lower levelized cost of energy and better sustainability performance.