Hempaguard X7 application to the Superyacht Saudade
After testing the performance of Hempaguard X7 for 6 months on the rudder and keel, the SY Saudade Captain and crew decided to protect the whole underwater area with X7.
Hempaguard X7 will provide excellent performance in terms of improving the boats' performance while also reducing the maintenance costs, the fuel consumption and the overall emissions.
The advanced fouling defence coating is based on ActiGuard® technology which utilizes the  combined effect of advanced hydrogel silicone and an efficient biocide. This boosts the antifouling protection and extends the fouling-free period during Saudade's journey.
The existing underwater hull coating was a silicone system which had been previously repaired several times.
The existing Hempaguard X7 system on the keel and rudder areas had just minor mechanical damages on the edges that needed to be repaired, and only a general touch-up was required together with applying the system to the rest of the boats' underwater area.
System was applied by airless spray (except for the support areas, touched up after the full coats) inside a standard application tent.
The solution 
After close examination of the boats' underwater area, Hempel's team created a full coatings and service package for the vessel. 
The surface preparation was done under the supervision of the contractor representatives: the existing antifouling paint system was fully removed down to a sound existing epoxy substrate which was then, fully degreased and high pressure washed.
The existing Hempaguard X7 system on the keel and rudder areas was high pressure washed and very minor mechanical damages on the edges spot repaired and touched up with Hempel's Light Primer and Hempel's Silic One Tiecoat, followed by a full coat of Hempaguard X7 (applied in combination with the rest of the hull areas).
48 hours after the application of all specified coats on the underwater hull, keel and rudder, the boat was lifted. 
Touch-up repairs were done on the support areas using Hempel's Light Primer, Hempel's Silic One Tiecoat and Hempaguard X7.
Hempel assigned a team of coating advisors to oversee the complete coating application and the teams worked with the applicators to make sure the coatings were applied as per specification and coordinated to keep application time, waste and costs to minimum.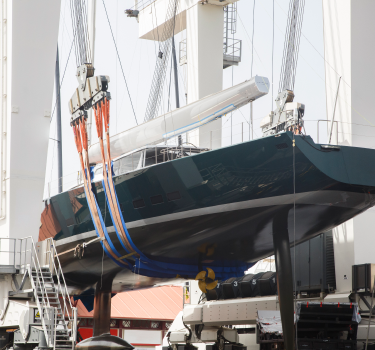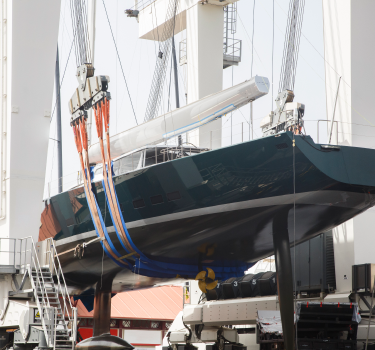 "We tried X7 on the rudder and keel and had fantastic results and now decided to do the whole boat.
This is our first real experience with Hempel, they've ben fantastic, everyone has been very involved in the process, we had a lot of support from the technicians coming down from Barcelona, making sure everything has been applied perfectly and communication has been fantastic, and we look forward to work with them again".

Rob Cumming, Captain of Saudade
The paint system
| | |
| --- | --- |
| Coat 1 | Hempel's Light Primer |
| Coat 2 | Hempel's Nexus II |
| Coat 3 | Hempaguard X7 |