24.10.2022
Hempel's Hempafire Pro 400 gains EN13381-8 certification and CE mark
Global coatings manufacturer Hempel today announced that its Hempafire Pro 400 passive fire protection coating has been certified according to the EN13381-8 standard and granted the CE mark, complementing the already existing BS-476 and ApplusFire certifications. Hempafire Pro 400 maintains the stability of steel structures in the event of a cellulosic fire for up to 120 minutes and brings users a number of efficiency benefits.
Passive fire protection (PFP) coatings insulate steel against high heat, which extends the steel's load-bearing capacity if a fire breaks out, giving valuable extra time for evacuation and emergency response.
Hempafire Pro 400 has been optimised to provide cellulosic fire protection for 90 and 120 minutes and is fully compatible with Hempafire Pro 315, which is optimised for 30 and 60-minute fire durations. Now, both products are third party certified according to EN 13381-8/9 and BS-476 20/21 and available in Europe, Africa, Middle East, South and East Asia and Central America. For both products, third party verified Environmental Product Declarations (EPD) are available.
Hempafire Pro intumescent coatings have already proved their success to the PFP industry thanks to the exceptionally low thicknesses required to protect steel. This, compared to previous similar products, results in reduced total paint consumption, fewer coats to apply and protection delivered in shorter process times.
Hempel's Group Product Manager, Cellulosic PFP, Roger Soler, comments:
"We're very pleased to make Hempafire Pro 400 available to customers that require the EN 13381-8 standard and CE mark. After a very successful launch last year in the UK and Middle East with the BS-476 standard, we can now provide the same cost advantages and project efficiencies to customers in mainland Europe. Moreover, during this last year we have also further improved the BS-476 loadings at 2 hours and we received an Environmental Product Declaration. Thanks to the reduced quantity of paint needed in a project, Hempafire Pro 400 can contribute to reducing the PFP-related carbon footprint of buildings."
Both Hempafire Pro 400 and 315 product ranges are available in Fast Dry versions to provide best application results in different climatic conditions and can be used as a single solution for most common steel sections for both in-shop or on-site applications. They can be used in Type X exterior conditions and C4-High according to ISO 12944.
The Hempafire Pro range at a glance:
Two passive fire protection coatings:

Hempafire

Pro 315 optimised for 30 & 60 minutes fire protection and Hempafire Pro 400 optimised for 90 & 120 minutes

Lower loadings significantly reduce paint consumption and help to improve drying times

Excellent aesthetic appearance when correctly applied

Excellent application properties – designed with applicators in mind

Same product can be

used for most steel profile types, both in-shop and on-site

Can be applied up to 1,600 microns DFT in one coat to minimise the number of coats required

BS 476 20/21 and EN13381-8 approved and third party certified

Approved for Type Y / Type X interior / exterior conditions according

to EAD 350402-00-1106 and corrosion environments up to C4 High according to ISO 12944

Offered with a considerable list of primers and topcoats to satisfy full system requirements

Environmental Product Declaration according to EN 15804:2002 +A2:2019 Type III – third party verified by BRE and listed in the Ecoplatform
More information can be found at the Hempafire Pro
webpage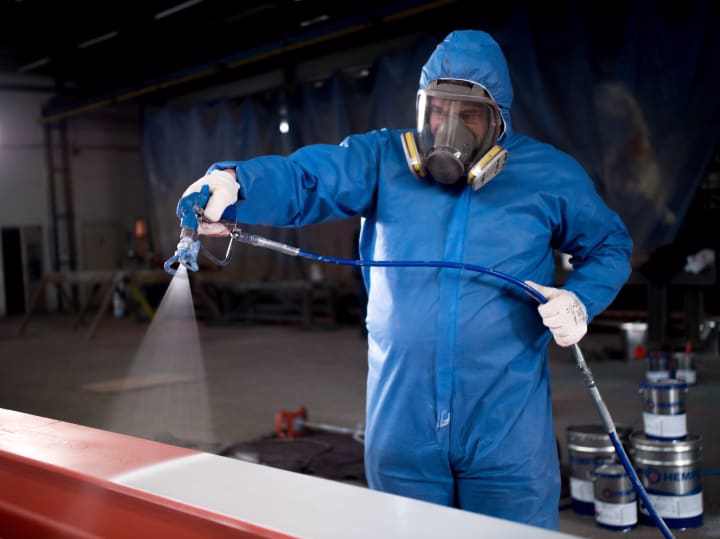 For further information, please contact:
Joanna Ashmead
Head of Media Relations, Hempel
Phone: +45 3077 2816
Email: communications@hempel.com
About Hempel
As a world-leading supplier of trusted coating solutions, Hempel is a global company with strong values, working with customers in the decorative, marine, infrastructure and energy industries. Hempel factories, R&D centres and stock points are established in every region.
Across the globe, Hempel's paints and coatings can be found in almost every country of the world. They protect and beautify buildings, infrastructure and other assets, and play an essential role in our customers' businesses. They help minimise maintenance costs, improve aesthetics and increase energy efficiency.
At Hempel, our purpose is to shape a brighter future with sustainable coating solutions. We firmly believe that we will succeed as a business only if we place sustainability at our heart. Not only is it the right thing to do, it will strengthen our competitive position, make ourselves more resilient and reduce our risk.
Hempel was founded in Copenhagen, Denmark in 1915. It is proudly owned by the Hempel Foundation, which ensures a solid economic base for the Hempel Group and supports cultural, social, humanitarian and scientific purposes around the world.