13.11.2020
Pernille Fritz Vilhelmsen new CPCO in Hempel
Pernille Fritz Vilhelmsen has been appointed Executive Vice President & Chief People & Culture Officer and member of the Executive Management Board in Hempel A/S. She succeeds Peter Kirkegaard, who has accepted a new opportunity outside Hempel.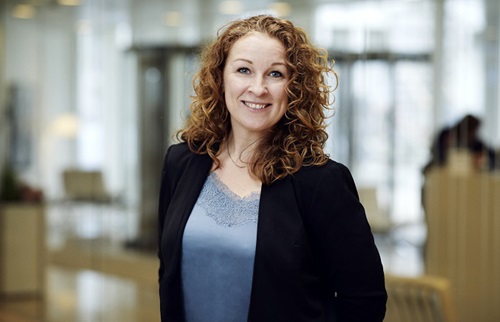 Pernille has been Talent Management Director at Hempel since she joined from Maersk Line in 2017, and she has delivered remarkable results in a few years. 

Lars Petersson, Group President and CEO of Hempel, comments: "Pernille is professional, personable, grounded and has a special way of combining high personal integrity with high interest in others. She has been very successful in her current role and comes with previous solid senior experience from both busi-ness and people roles in an international context. I have no doubt she will be a great contributor as we start to deploy our new strategy. I am especially satisfied that we were able to find an internal talent who is ready to enter the Executive Management Board."

Pernille comments: "I am very excited to continue the work that Peter started and proud that Lars and the board have invited me to be part of driving our ambitious growth journey. We have a strong foundation for People & Culture to build on and I look forward to continuing and accelerating our contribution, enabling our leaders and employees to succeed in doubling Hempel. Three and a half years ago, Hempel became my professional family, welcoming me with open arms. I could not be happier to continue working with this great company and wonderful colleagues in my new capacity."
Peter Kirkegaard leaves Hempel after 13 years. He will take a position as Chief Human Resource Officer in Haldor Topsoe A/S, beginning on 1 January 2021.

Lars Petersson says: "I would like to thank Peter for his tremendous effort over the time we have worked together as colleagues. During this time, Peter has, together with his team, put People & Culture on Hempel's core agenda and thereby brought Hempel into the modern world. I wish Peter all the best in the future."
###


For further information, please contact:
Sandra Baekby-Hansen
Communication Manager
Phone: +45 2137 2985
Email: sabae@hempel.com 
About Hempel
As a world-leading supplier of trusted coating solutions, Hempel is a global company with strong values, working with customers in the decorative, marine, infrastructure and energy industries. Hempel factories, R&D centres and stock points are established in every region.
Across the globe, Hempel's paints and coatings can be found in almost every country of the world. They protect and beautify buildings, infrastructure and other assets, and play an essential role in our customers' businesses. They help minimise maintenance costs, improve aesthetics and increase energy efficiency.
At Hempel, our purpose is to shape a brighter future with sustainable coating solutions. We firmly believe that we will succeed as a business only if we place sustainability at our heart. Not only is it the right thing to do, it will strengthen our competitive position, make ourselves more resilient and reduce our risk.
Hempel was founded in Copenhagen, Denmark in 1915. It is proudly owned by the Hempel Foundation, which ensures a solid economic base for the Hempel Group and supports cultural, social, humanitarian and scientific purposes around the world.