17.12.2020
Hempel's flagship hull coating Hempaguard X7 reaches milestone
Hempel confirms leadership position within fuel efficiency in the shipping industry. By completing 2,000 vessel applications of Hempaguard X7, Hempel has reduced shipown-ers' fuel consumption by 7.6 million tons, lowering fuel costs by at least USD 2.6 billion and CO2 emissions by 23.5 million tons.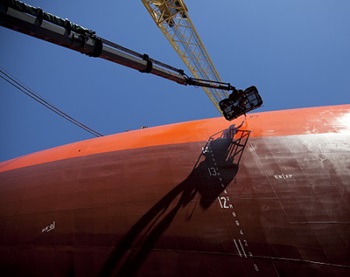 Since its launch in 2013 by world-leading coatings manufacturer Hempel, the Hempaguard X7 hull coating has been applied over 2,000 times. Hempel has continuously documented Hempaguard X7's ability to reduce fuel consumption and CO2 emissions for shipowners, and now the exact impact has been calculated.
Michael Hansen, Executive Vice President & Chief Commercial Officer, comments: "Reaching this important milestone of 2,000 full ship applications in just seven years proves the value of the solution for our customers. Simultaneously, it emphasises the importance of developing solutions that help our customers deliver on their sustainability agendas while also reducing their costs tremendously. One of the key elements in our new strategy is to contribute to a more sustainable direction in the world. Solutions like Hempaguard will be essential to that."
Hempaguard X7 is based on Hempel's patented Actiguard® technology, which combines the smoothness of a silicone coating with efficient fouling preventing biocides in a single coat. Hempaguard X7 was the first fouling defence coating to use this innovative technology, and its significance has been immense for Hempel and the marine industry in general.
"By delivering fuel savings of at least USD 2.6 billion and reducing CO2 emissions by 23.5 million tons – equivalent to the emissions from 1.2 million passenger cars per year since 2013 – we've confirmed our position within fuel reducing coatings, fouling defence systems and hull coatings. I'm proud to say that we lead the way in documented fuel efficiency in the marine industry," says Michael Hansen.
The 2,000th application of Hempaguard X7 was completed on the TORM Titan.
Download fact sheet about Hempaguard X7
###
Calculation method
The savings related to the 2,000 vessel applications have been calculated by evaluating each vessel individually. For each ship coated with Hempaguard X7, Hempel estimated the actual yearly consumption using numbers from the Fourth IMO GHG Study 2020. The IMO consumption estimates are based on voyage data for all ships and consists of yearly averages divided into ship types.
###
Contact
Sandra Baekby-Hansen, Communication Manager
Email: sabae@hempel.com
Phone: +45 2137 2985
About Hempel
As a world-leading supplier of trusted coating solutions, Hempel is a global company with strong values, working with customers in the decorative, marine, infrastructure and energy industries. Hempel factories, R&D centres and stock points are established in every region.
Across the globe, Hempel's paints and coatings can be found in almost every country of the world. They protect and beautify buildings, infrastructure and other assets, and play an essential role in our customers' businesses. They help minimise maintenance costs, improve aesthetics and increase energy efficiency.
At Hempel, our purpose is to shape a brighter future with sustainable coating solutions. We firmly believe that we will succeed as a business only if we place sustainability at our heart. Not only is it the right thing to do, it will strengthen our competitive position, make ourselves more resilient and reduce our risk.
Hempel was founded in Copenhagen, Denmark in 1915. It is proudly owned by the Hempel Foundation, which ensures a solid economic base for the Hempel Group and supports cultural, social, humanitarian and scientific purposes around the world.