08.10.2019
Hempel appoints new Head of Protective & Industrial Businesses
As of 1 October, Martin Wiese is leading the protective and industrial business areas for worldwide coatings manufacturer Hempel. These two business segments deliver around half of Hempel's total turnover and this senior appointment is key to Hempel's continued drive to become a EUR 3 billion company.
Hempel's protective and industrial business areas cover Wind Power, Infrastructure, Oil & Gas and Thermal Power areas. From 1 October, Martin Wiese has the overall responsibility for driving these businesses further on a global scale.
"It is a huge responsibility and I have every confidence in Martin's skills and capabilities" says Michael Hansen, Chief Commercial Officer at Hempel. "We operate within an industry where our customers are continually growing bigger and becoming more global. It is vital we retain and strengthen our global presence ensuring we are able to operate and compete at the very highest level. I am confident that Martin will fit perfectly into his new role, and I am very pleased that he has accepted the challenge".
It is not Martin Wiese's first encounter with Hempel. He joined the R&D team in Denmark in 1996 and after various roles in Hempel he was promoted to Group Vice President for Research & Development in Hempel in 2005. Hempel has changed significantly since then but Martin Wiese retains his insight into the core of Hempel's business.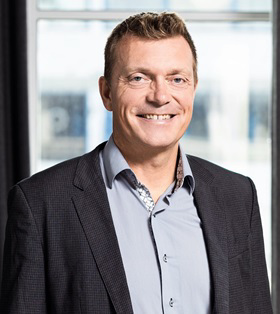 "Martin's solid background in the coatings industry and in Hempel's business and products gives him an understanding of our coatings and services from the initial phase. He knows the protective coatings market and the innovative process that lies behind the development of new coating solutions. This is extremely valuable when meeting customers and developing our protective business to meet their needs," says Michael Hansen.
Martin Wiese has 20 years of experience in the coatings industry. He has held commercial positions with a global perspective based out of Denmark, France, The Netherlands and the UAE. He has vast experience within management consultancy and holds an executive MBA from the Scandinavian International Management Institute and a Master of Science in Environmental Chemistry from the University of Copenhagen.
In his new position at Hempel, he will be based at the headquarters near Copenhagen, Denmark. On taking the role he says: "I'm more than ready to join the team and take part in driving forward Hempel's protective and industrial businesses. Hempel's focus on connecting with the customers is a core reason for me accepting the challenge. So, I look forward to working with colleagues in a global setup to create value for Hempel's customers, both existing and new, across the globe".
About Hempel
As a world-leading supplier of trusted coating solutions, Hempel is a global company with strong values, working with customers in the decorative, marine, infrastructure and energy industries. Hempel factories, R&D centres and stock points are established in every region.
Across the globe, Hempel's paints and coatings can be found in almost every country of the world. They protect and beautify buildings, infrastructure and other assets, and play an essential role in our customers' businesses. They help minimise maintenance costs, improve aesthetics and increase energy efficiency.
At Hempel, our purpose is to shape a brighter future with sustainable coating solutions. We firmly believe that we will succeed as a business only if we place sustainability at our heart. Not only is it the right thing to do, it will strengthen our competitive position, make ourselves more resilient and reduce our risk.
Hempel was founded in Copenhagen, Denmark in 1915. It is proudly owned by the Hempel Foundation, which ensures a solid economic base for the Hempel Group and supports cultural, social, humanitarian and scientific purposes around the world.