03.03.2019
Positive development for Hempel in 2018: Industrial transformation to continue unabated in 2019
Global coatings company Hempel delivered strong organic growth in the final quarter of 2018 and doubled its decorative business in Europe by acquiring J.W. Ostendorf. It is now well-placed to lead the consolidation of the global coatings industry.
Key messages
Hempel continues its industrial transformation in 2018 and delivers robust performance with growth and continued strong profitability
Hempel takes a leading role in the consolidation of the global coatings industry with the acquisition of J.W. Ostendorf
Negative organic growth of 1.4% considered satisfactory when taking into account the challenging global market conditions
Hempel has released EUR 166 million in net working capital improvements since beginning of 2016, giving it the resources to acquire other businesses in the next few years
Hempel has agreed to pay a fine of DKK 220 million for illegal practices to SØIK and the Prosecution Authority in Kiel, Germany. The amount was partly expensed in Hempel's financial statements for 2016
2019 will be a year of progress, and Hempel expects to bring more new companies into the Hempel family.
"2018 was a very satisfying year and marks the halfway point for Hempel's major transformational journey. We delivered positive organic growth of 4 per cent in the final quarter, turned around our business in Asia-Pacific and welcomed J.W. Ostendorf to the Hempel family. This puts us in a strong position to push on in 2019 and beyond," says Henrik Andersen, Group President & CEO of Hempel.
Hempel's revenue grew by 1.5 per cent in fixed currencies in 2018 and its EBITDA margin ended the year at 10.8 per cent. When excluding J.W. Ostendorf, underlying organic growth was -1.4 per cent and EBITDA margin was 11.8 per cent. This is a satisfactory result in the challenging global market conditions.
Hempel maintained its focus on freeing up working capital. Since the beginning of 2016, it has released EUR 166 million in cash by optimising its net working capital processes. When adjusting for the effect from the acquisition of J.W. Ostendorf, Hempel became debt free in 2018 and now has the freedom to pursue its ambitious growth targets through major acquisitions and strong organic growth.
Doubling the decorative business in Europe
In 2018, Hempel welcomed J.W. Ostendorf to the Hempel Group, a decorative coatings company with operations primarily in Germany and France. The acquisition doubled Hempel's decorative business in Europe and contributed with EUR 39 million in sales in the fourth quarter of 2018.
Following the acquisition, Hempel created Decorative Europe, a new business unit that combines J.W. Ostendorf and UK & Ireland-based Crown Paints. Decorative Europe will become a true leader in the decorative coatings market for both branded and private labelling, ultimately serving all of Europe, both retail customers and homeowners.
Demonstrating the strong Hempel culture
Hempel completed a turn-around of its business in Asia-Pacific and a restructuring in North America in 2018 – and both regions ended the year in significantly better shape than they began. In the fourth quarter, North America delivered robust double-digit organic growth, while Asia-Pacific had a solid foundation for growth, as demonstrated by a strong improvement in earnings in the second half of 2018.
Henrik Andersen comments: "The turn-around in Asia-Pacific has been achieved by installing completely new leadership teams and working hard on the ground to instil the winning Hempel culture, one with strong ties to our customers and employees engaged in our customer-focused vision. This is a testament to what a strong culture, vision and leadership can achieve."
The customer-centric vision is a key part of the Hempel culture, and in 2018 Hempel took an important step to lead the industry in 'service management', essentially taking over responsibility for keeping its customers assets in the agreed conditions over the asset's life cycle. This was done by creating a new globally aligned service organisation, Hempel Services.
Hempel has resolved the SØIK case by paying a fine of DKK 220 million 
In April 2017, Hempel selfreported a number of uncovered illegal sales practices found in Germany, other countries in Europe and in Asia to SØIK, the Danish State Prosecutor for Serious Economic and International Crime*.
The unlawful practices were stopped immediately and the people responsible were replaced. Hempel has completed internal remediation, invested heavily, and established a robust compliance framework.
Hempel A/S and Hempel (Germany) GmbH have now been fined and agreed to a total settlement of DKK 220 million for these illegal practices. The fine is within the range of expectations and will be paid to SØIK and the Prosecution Authority in Kiel, Germany.
DKK 123 million was expensed in Hempel's financial statements for 2016, with the remaining part in the financial year 2018.
Hempel has cooperated fully with and had complete confidence in the authorities throughout this process.
"The unlawful activities were a direct attack on the integrity of Hempel's customers, culture, values and all our colleagues," says Henrik Andersen. "We are a global company with 6,500 employees and loyal customers, who place their trust in us. We have made substantial investments internally and externally to prevent compliance issues from happening in the future and to re-establish that trust. That is the price we have had to pay for being non-compliant. We have cleaned up and moved on."
Looking forward to 2019
2019 will be a year of progress. The global coatings market is expected to pick up, and Hempel anticipates delivering underlying organic growth in line with or slightly better than the market. As a leading company within the global coatings industry, Hempel expects to bring more new companies into the Hempel family, as it continues its journey towards becoming a EUR 3 billion revenue company.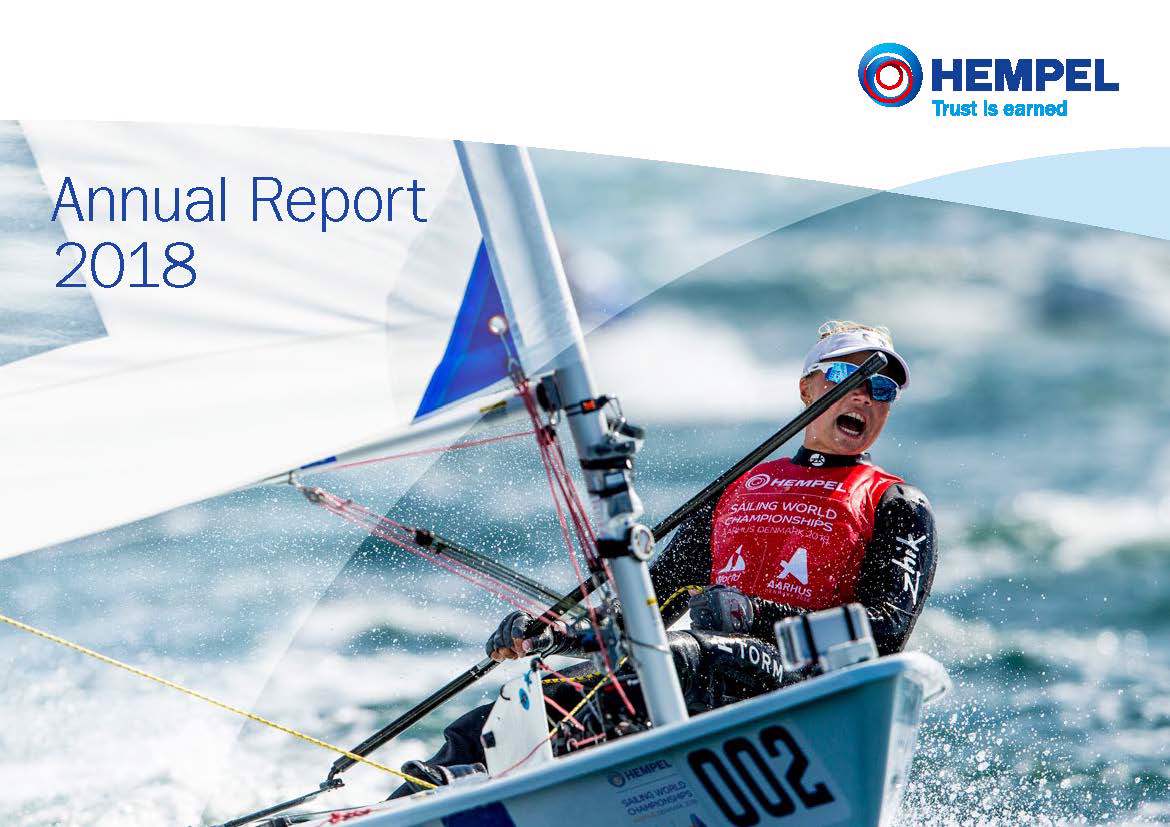 Positive development for Hempel in 2018: Industrial transformation to continue unabated in 2019
About Hempel
As a world-leading supplier of trusted coating solutions, Hempel is a global company with strong values, working with customers in the decorative, marine, infrastructure and energy industries. Hempel factories, R&D centres and stock points are established in every region.
Across the globe, Hempel's paints and coatings can be found in almost every country of the world. They protect and beautify buildings, infrastructure and other assets, and play an essential role in our customers' businesses. They help minimise maintenance costs, improve aesthetics and increase energy efficiency.
At Hempel, our purpose is to shape a brighter future with sustainable coating solutions. We firmly believe that we will succeed as a business only if we place sustainability at our heart. Not only is it the right thing to do, it will strengthen our competitive position, make ourselves more resilient and reduce our risk.
Hempel was founded in Copenhagen, Denmark in 1915. It is proudly owned by the Hempel Foundation, which ensures a solid economic base for the Hempel Group and supports cultural, social, humanitarian and scientific purposes around the world.