04.07.2018
Lars Jønstrup Dollerup starts as CFO
Hempel's new Group CFO, Lars Jønstrup Dollerup, started on 1 July and will now concentrate on ensuring Hempel moves forward with its Journey to Excellence strategy.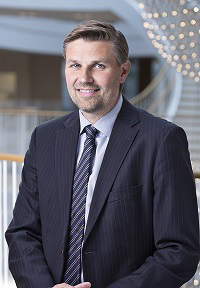 As Executive Vice President & Group CFO, Lars Jønstrup Dollerup is part of Hempel's Executive Management Board. He will play an important role in ensuring the company continues to execute successfully on its Journey to Excellence strategy, particularly in its aim to grow both organically and through acquisitions.
"I have no doubt we will deliver on our growth ambitions. I've spent the first few days getting to know the business better and am already impressed by the knowledge and customer-focus that runs through the entire company. Hempel has a strong culture and excellent values – and I'm very much looking forward to helping drive the company forward," says Lars Jønstrup Dollerup.
Before joining Hempel, Lars was Group CFO of Copenhagen Airports, a company listed on Nasdaq OMX Copenhagen with 2,500 employees and an annual total turnover of more than DKK 4 billion in 2017.
"Lars is a talented individual and proven executive," says Hempel Group President & CEO Henrik Andersen. "He has extensive financial experience and strong strategic focus, and I'm sure he will prove a strong addition to our global leadership team. I'm very much looking forward to working with him over the coming years."
About Hempel
As a world-leading supplier of trusted coating solutions, Hempel is a global company with strong values, working with customers in the decorative, marine, infrastructure and energy industries. Hempel factories, R&D centres and stock points are established in every region.
Across the globe, Hempel's paints and coatings can be found in almost every country of the world. They protect and beautify buildings, infrastructure and other assets, and play an essential role in our customers' businesses. They help minimise maintenance costs, improve aesthetics and increase energy efficiency.
At Hempel, our purpose is to shape a brighter future with sustainable coating solutions. We firmly believe that we will succeed as a business only if we place sustainability at our heart. Not only is it the right thing to do, it will strengthen our competitive position, make ourselves more resilient and reduce our risk.
Hempel was founded in Copenhagen, Denmark in 1915. It is proudly owned by the Hempel Foundation, which ensures a solid economic base for the Hempel Group and supports cultural, social, humanitarian and scientific purposes around the world.