09.08.2018
Hempel thanks the city of Aarhus
Hempel gives a watercolour painting to the city of Aarhus, Denmark to commemorate a successful Hempel Sailing World Championships 2018.
To mark Hempel's title sponsorship of the Hempel Sailing World Championships (HSWC) 2018, Hempel created a 2018 maritime calendar in collaboration with the city of Aarhus. The calendar features seven watercolour paintings incorporating local scenery by the Danish painter Jan Theilgaard Jensen. Together, the seven watercolours include all the boat classes in the HSWC and the calendar is an excellent illustration of the fascinating history of the Sailing World Championships. The calendar has been distributed by the city of Aarhus as well to Hempel's customers around the world.
On Friday 10 August, Group President & CEO Henrik Andersen handed over an original watercolour from the calendar to Jacob Bundsgaard, Mayor of Aarhus, who received the painting on behalf of the city of Aarhus.
Jacob Bundsgaard thanked Hempel for the painting, which will prove an excellent reminder of the successful Hempel Sailing World Championships.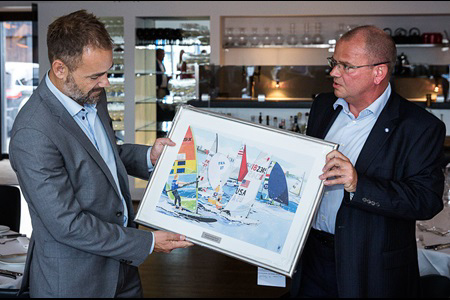 Henrik Andersen, Group President & CEO of Hempel A/S, handed over the watercolour to Jacob Bundsgaard, Mayor of Aarhus.
About Hempel
As a world-leading supplier of trusted coating solutions, Hempel is a global company with strong values, working with customers in the decorative, marine, infrastructure and energy industries. Hempel factories, R&D centres and stock points are established in every region.
Across the globe, Hempel's paints and coatings can be found in almost every country of the world. They protect and beautify buildings, infrastructure and other assets, and play an essential role in our customers' businesses. They help minimise maintenance costs, improve aesthetics and increase energy efficiency.
At Hempel, our purpose is to shape a brighter future with sustainable coating solutions. We firmly believe that we will succeed as a business only if we place sustainability at our heart. Not only is it the right thing to do, it will strengthen our competitive position, make ourselves more resilient and reduce our risk.
Hempel was founded in Copenhagen, Denmark in 1915. It is proudly owned by the Hempel Foundation, which ensures a solid economic base for the Hempel Group and supports cultural, social, humanitarian and scientific purposes around the world.