28.06.2017
New R&D centre focused solely on life-saving PFP coatings
We're investing in a new research and development centre focused solely on passive fire protection (PFP) coatings. Located just outside Barcelona in Spain, the centre is due to open towards the end of 2018, and will help us pursue our strategy of expanding our range of these life-saving products.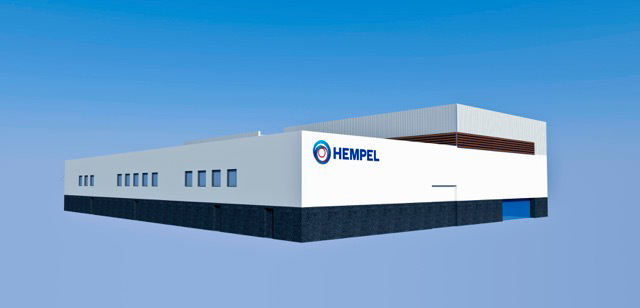 Applied to structural steel, PFP coatings enable the steel to maintain its load-bearing capacity for up to four hours longer during a fire, giving people valuable time to escape the building. This is an increasingly important consideration for our customers, and to the people who use the buildings and installations.
Our existing range of PFP coatings for cellulosic fires, Hempacore, includes both fast-drying and waterborne versions, and has been used on civil structures around the globe. Our new R&D facility will enable us to accelerate our work in this area, as we expand our PFP product range to include special PFP coatings for the hydrocarbon fires encountered in the oil and gas industry.
The facility will employ 35 highly experienced technicians and scientists. It will be located in Santa Perpètua de Mogoda near Barcelona, just five kilometres from our existing Spanish R&D facility, and it will be an important addition to global R&D network, as Group President & CEO Henrik Andersen explains.
"At Hempel, R&D begins and ends with the customer. Our 15 R&D centres around the globe all work together as one organisation to ensure that our customers get best-in-class solutions and technical support, whether they are global, multinational or local. PFP coatings are a key element in our Journey to Excellence strategy, and the new PFP-focused R&D centre will ensure we remain at the leading edge of this important technological area."
The new centre at a glance
Focus: PFP coatings for cellulosic and hydrocarbon fires
Location: Santa Perpètua de Mogoda, near Barcelona in Spain
Employees: 35 highly skilled technicians and scientists
Opening date: Q3 2018
About Hempel
As a world-leading supplier of trusted coating solutions, Hempel is a global company with strong values, working with customers in the decorative, marine, infrastructure and energy industries. Hempel factories, R&D centres and stock points are established in every region.
Across the globe, Hempel's paints and coatings can be found in almost every country of the world. They protect and beautify buildings, infrastructure and other assets, and play an essential role in our customers' businesses. They help minimise maintenance costs, improve aesthetics and increase energy efficiency.
At Hempel, our purpose is to shape a brighter future with sustainable coating solutions. We firmly believe that we will succeed as a business only if we place sustainability at our heart. Not only is it the right thing to do, it will strengthen our competitive position, make ourselves more resilient and reduce our risk.
Hempel was founded in Copenhagen, Denmark in 1915. It is proudly owned by the Hempel Foundation, which ensures a solid economic base for the Hempel Group and supports cultural, social, humanitarian and scientific purposes around the world.