19.07.2017
Hull monitoring service proves fuel savings for Euronav
Many hull coatings claim to reduce fuel consumption and associated emissions. But how can you prove it? This was the challenge facing Euronav, one of the global leaders in the shipping of crude oil, and we were happy to provide a solution.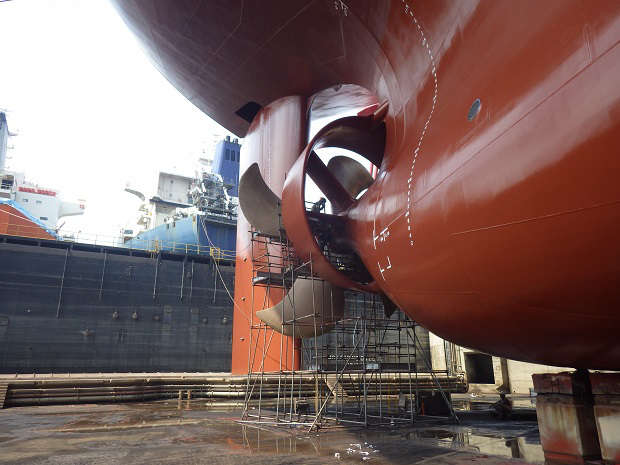 When fouling organisms, such as barnacles and biological slime, attach to a vessel's hull, the extra drag they create means additional fuel is needed to move the ship – which increases both fuel consumption and associated CO2 emissions.
Many hull coatings claim to improve hull smoothness and so reduce fuel consumption and associated emissions. But proving the results requires accurately gathering performance data from a vessel's hull and propeller system. This is the service we now provide to Euronav.
"Hempel's hull performance monitoring programme is enabling us to accurately determine the performance of our propulsion systems, including the propeller and hull coating. This gives us complete insight into our return on investment. But more importantly, it also enables us to make adjustments and so improve long-term efficiency," says Theodore Mavraidis, Fleet Technical Manager, Euronav Ship Management (Hellas) Ltd.
Independent analysis proves strong return on investment
The service is provided in collaboration with DNV GL, an independent advisor to the maritime industry. Working with DNV GL, our Hull Performance Team began monitoring the hull and propeller performance on three Euronav vessels six months before the application of Hempaguard X7 , our industry-leading hull coating.
Six months after application, the data clearly showed a total increase in propulsion efficiency, of which a significant portion was directly attributable to the Hempaguard hull coating. As a result, Euronav decided to switch two more vessels – the VLCC Sandra and the Suezmax Maria – to Hempaguard X7 in the middle of 2016.
About Hempel
As a world-leading supplier of trusted coating solutions, Hempel is a global company with strong values, working with customers in the decorative, marine, infrastructure and energy industries. Hempel factories, R&D centres and stock points are established in every region.
Across the globe, Hempel's paints and coatings can be found in almost every country of the world. They protect and beautify buildings, infrastructure and other assets, and play an essential role in our customers' businesses. They help minimise maintenance costs, improve aesthetics and increase energy efficiency.
At Hempel, our purpose is to shape a brighter future with sustainable coating solutions. We firmly believe that we will succeed as a business only if we place sustainability at our heart. Not only is it the right thing to do, it will strengthen our competitive position, make ourselves more resilient and reduce our risk.
Hempel was founded in Copenhagen, Denmark in 1915. It is proudly owned by the Hempel Foundation, which ensures a solid economic base for the Hempel Group and supports cultural, social, humanitarian and scientific purposes around the world.