25.06.2017
Hempel sponsors Sailing World Championships 2018
We're proud to announce that we are title sponsor of the Sailing World Championships 2018, which will be held in Aarhus, Denmark in July and August next year.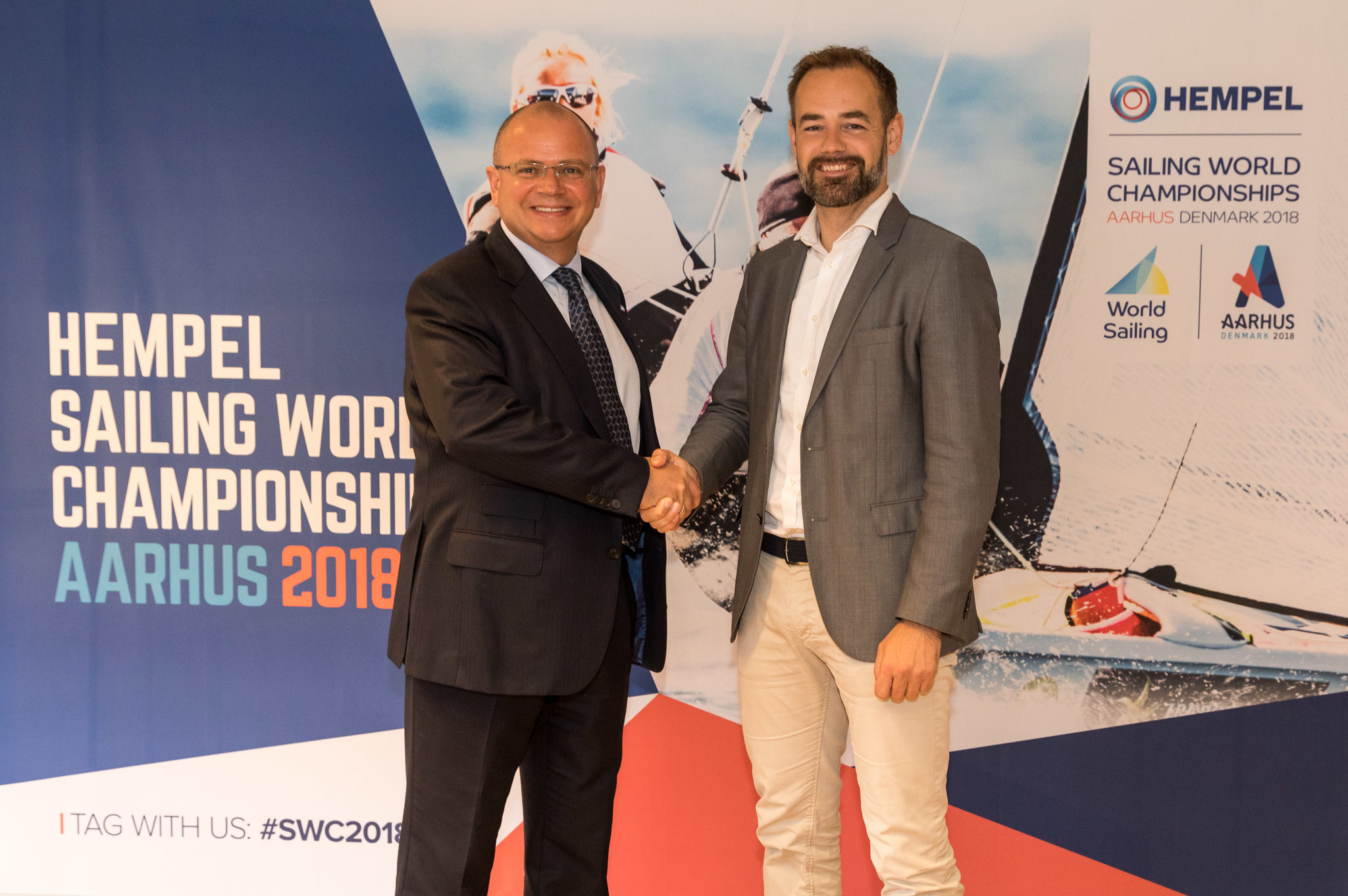 Mayor of Aarhus Jacob Bundsgaard this morning met with Hempel Group President & CEO Henrik Andersen to sign the official title sponsorship agreement.
The Hempel Sailing World Championships Aarhus Denmark 2018 is the principal qualification event for the Olympic Sailing Competition in Tokyo 2020. The event will be one of the biggest sailing competitions ever held, attracting nearly 1,500 sailors from 100 countries, as well as 400,000 visitors.
As a renowned supplier of specialist coatings for marine vessels, including racing yachts, we're proud to be supporting an event where the world's best sailors will meet and compete. Group President and CEO Henrik Andersen explains:
"We cherish cooperation and high performance. This is reflected in our business strategy Journey to Excellence, where we seek to become excellent at everything we do, exactly as the world's best sailors and their teams do," he says. "At the same time, the event is a good opportunity for us to show what Hempel stands for, and how we look to support local communities, which is an important part of our values."
Facts about the Hempel Sailing World Championships Aarhus Denmark 2018
The Hempel Sailing World Championships Aarhus Denmark 2018 will include all 10 Olympic boat classes. Kitesurfing will be added to the programme for the first time.
Around 1,500 sailors from more than 100 nations will take part.
Around 400,000 visitors are expected in Aarhus for the event.
Held concurrently to the Sailing World Championships in Aarhus, a large festival will provide maritime experiences for visiting families.
Dates: 30 July – 12 August 2018.
The Hempel Sailing World Championships Aarhus Denmark 2018 is organised by The Danish Sailing Association, Sailing Aarhus, City of Aarhus and Sport Event Denmark.
About Hempel
As a world-leading supplier of trusted coating solutions, Hempel is a global company with strong values, working with customers in the decorative, marine, infrastructure and energy industries. Hempel factories, R&D centres and stock points are established in every region.
Across the globe, Hempel's paints and coatings can be found in almost every country of the world. They protect and beautify buildings, infrastructure and other assets, and play an essential role in our customers' businesses. They help minimise maintenance costs, improve aesthetics and increase energy efficiency.
At Hempel, our purpose is to shape a brighter future with sustainable coating solutions. We firmly believe that we will succeed as a business only if we place sustainability at our heart. Not only is it the right thing to do, it will strengthen our competitive position, make ourselves more resilient and reduce our risk.
Hempel was founded in Copenhagen, Denmark in 1915. It is proudly owned by the Hempel Foundation, which ensures a solid economic base for the Hempel Group and supports cultural, social, humanitarian and scientific purposes around the world.