28.02.2017
Hempel grows in North America
Hempel expands its global network with a new Central Distribution Centre in Texas, demonstrating its continuing commitment to be closer to its customers.
Located in Northlake, Texas, the new Central Distribution Centre (CDC) enables Hempel to boost its efficiency and customer service and support its global growth. The new CDC warehouse will be responsible for distributing Hempel's entire range of coatings to customers and stock points across North America.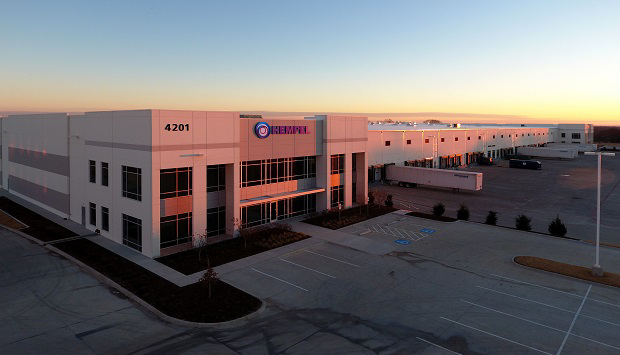 Speaking at the official inauguration yesterday Hempel Group President & CEO, Henrik Andersen said:
"We are delighted to be opening our new CDC here today. This new facility further cements our presence in North America. It takes us a step closer to our goal of achieving our 2020 strategy, Journey to Excellence, and supports our global growth. At Hempel, we are continuously investing in ways to streamline our operations so that we can deliver great customer service at a reasonable cost. This new facility allows us to do just that."
With manufacturing taking place in Dallas and Conroe, Texas, this strategic investment allows orders to be fulfilled and shipped in record time and at reduced cost. The new CDC warehouse covers 202,000 sq. ft/18,766 sq m with 32 dock doors.
More than 30 new jobs will be generated in the first year alone and enabling the new CDC to contribute to the sustainable growth of Northlake and the surrounding local economy.
Hempel's expanding infrastructure allows the company to increase productivity and efficiency, driving business growth for itself and its customers.
About Hempel
As a world-leading supplier of trusted coating solutions, Hempel is a global company with strong values, working with customers in the decorative, marine, infrastructure and energy industries. Hempel factories, R&D centres and stock points are established in every region.
Across the globe, Hempel's paints and coatings can be found in almost every country of the world. They protect and beautify buildings, infrastructure and other assets, and play an essential role in our customers' businesses. They help minimise maintenance costs, improve aesthetics and increase energy efficiency.
At Hempel, our purpose is to shape a brighter future with sustainable coating solutions. We firmly believe that we will succeed as a business only if we place sustainability at our heart. Not only is it the right thing to do, it will strengthen our competitive position, make ourselves more resilient and reduce our risk.
Hempel was founded in Copenhagen, Denmark in 1915. It is proudly owned by the Hempel Foundation, which ensures a solid economic base for the Hempel Group and supports cultural, social, humanitarian and scientific purposes around the world.