22.05.2017
Helping Sanco Shipping reduce time and costs in drydock
If a ship stands idle for 18 months, the hull usually ends up covered in barnacles, algae and other fouling – which means it has to be blasted, cleaned and repainted before it sails again. This was the challenge facing Sanco Shipping. Our solution was Hempaguard® X7.
Sanco Shipping's seismic support vessels operate all year round, travelling at very low speeds and often switching between warm and cold waters. This makes fouling a big challenge. When fouling organisms – such as barnacles and biological slime – attach to the hull, the extra drag they create means more fuel is needed to move the ship through the water.
For Sanco Shipping, this meant that its vessels often had to undergo expensive and time-consuming hull cleaning, blasting and coating re-application between jobs. Our solution was Hempaguard X7, our most advanced hull coating to date.
Fouling free after 18-month idle period
Sanco Shipping applied Hempaguard X7 to its seismic support vessel Sanco Sky in October 2014. After a year in operation, the vessel's hull was free of fouling. At this point, Sanco Sky was laid up for 18 months. When it returned to service, the hull was still almost completely free of fouling and only required light cleaning before it was ready sail again.
"Hempaguard surpassed our expectations," says Ivar Slettevoll, CEO, Sanco Shipping. "When we inspected the hull after an 18-month idle period, it was almost completely clean of fouling. This saved us significant drydock costs, and meant we could deliver the vessel to our customer much faster."
We're pleased to be able to help companies like Sanco Shipping not only save costs associated with hull blasting and coating re-application, but also ensure faster vessel delivery to their customers.
Read the full case story here.
About Sanco Shipping AS
Sanco Shipping AS is a leading provider of high-quality solutions to the seismic industry, with a fleet of purpose-built vessels. It is based in Norway and has been a Hempel customer since it was established in 1996.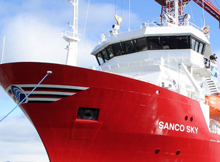 When nothing on your hull is more important
Find out more about our industry-leading Hempaguard hull coatings here.
About Hempel
As a world-leading supplier of trusted coating solutions, Hempel is a global company with strong values, working with customers in the decorative, marine, infrastructure and energy industries. Hempel factories, R&D centres and stock points are established in every region.
Across the globe, Hempel's paints and coatings can be found in almost every country of the world. They protect and beautify buildings, infrastructure and other assets, and play an essential role in our customers' businesses. They help minimise maintenance costs, improve aesthetics and increase energy efficiency.
At Hempel, our purpose is to shape a brighter future with sustainable coating solutions. We firmly believe that we will succeed as a business only if we place sustainability at our heart. Not only is it the right thing to do, it will strengthen our competitive position, make ourselves more resilient and reduce our risk.
Hempel was founded in Copenhagen, Denmark in 1915. It is proudly owned by the Hempel Foundation, which ensures a solid economic base for the Hempel Group and supports cultural, social, humanitarian and scientific purposes around the world.