"Making the People Promise film was a really interesting experience. I'm not sure if people here recognise me more now, but if I'm late for a meeting, my colleagues often blame my 'superstar status', so it's definitely added more fun to my day-to-day work," says Rifnur with a smile.
In the film, Rifnur can be seen working in our R&D labs at headquarters and cycling through the Danish countryside. But cycling is not Rifnur's only pastime. Not by a long way. He's also run marathons and even took part in an amateur boxing match in London.
"Challenges motivate and energise me," he says. "As soon as I'd done my first half marathon, I signed up for a full one. It was difficult. I regretted it many times when I was running, but it was such a great feeling when I accomplished it. The boxing match was also a brilliant feeling. I got a split decision – a draw basically – which is a very good result when fighting against a local in another country. These are moments you remember afterwards."

The biggest challenge of all
As a Senior Chemist and part of the Hempel Innovation Group, Rifnur is constantly exposed to new challenges. As you can imagine, it's one of the things that he enjoys most about his work at Hempel.
"I love the fact that I'm constantly exposed to different things. I work with innovative products and, right now, I'm deeply involved in water-repellent technology. I also have a project management role and am leading a small team. I get new responsibilities and challenges all the time and that excites me a lot," he explains.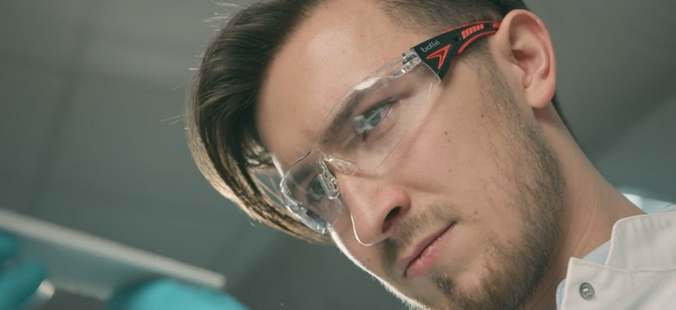 So, what has been Rifnur's biggest challenge since joining Hempel four years ago? "The biggest thing has been adapting to teamwork," he says. "I'm getting better and better at it, but it was new to me when I started. I moved here from Russia and was used to working alone. In Denmark and at Hempel, there's a lot of teamwork. I've learnt to plan my time and pace things with other people. I've learnt when to push and when to give a little. These are little things, but they all add up to good teamwork."

From Russia to Copenhagen and beyond

Rifnur knew Hempel well before he started working here. In 2014, he moved from Kazan in Russia to Copenhagen to join the MSc programme at the Technical University of Denmark (DTU), a programme sponsored by the Hempel Foundation. During his MSc studies, he was often in the Hempel labs at headquarters, working side by side with Hempel's senior scientists – something he describes as 'a great experience'.
And since starting at here, he has had a number of great experiences. He spent three months near Barcelona in Spain working with the Protective team, for example, and was a Hempel representative at the One Young World Summit in London, an event that brings together the brightest young talents from different countries and sectors to work towards accelerating social impact.
"All these experiences have had a huge impact on me," he says. "But it's not just the travelling. Hempel is a diverse workplace with people from many different countries and backgrounds. I interact everyday with people, customers and colleagues from all around the world – and it all adds up to make me more open-minded and broader in my perspectives," he says.
I interact everyday with people, customers and colleagues from all around the world – and it all adds up to make me more open-minded and broader in my perspectives.