We live and work in many different countries, speak many languages and have different skills and areas of expertise. But we're all part of the Hempel family – a team of more than 6,500 people, united in the belief that our coatings can make our customers' businesses stronger and our world safer and longer lasting.
Hempel is a growing business, both geographically and in its fields of work. This gives us unique opportunities to develop our skills and explore different ways of working. Whatever we do, we constantly work to earn the trust of our colleagues, customers and external stakeholders. We value collaboration and innovation, and back ourselves to succeed.
Our values: Hempel at Heart
Our values portray the personality of our company culture and commitment to customers. They describe for all Hempel employees what it means to have Hempel at Heart – and act accordingly.

Connecting to customers
Creating more value for our customers, and earning their trust, is the ultimate goal and responsibility of us all.
Be passionate about understanding the needs of our customers and your role in solving them
Be guided in your decisions and actions by what is best for the customer, and what you have to offer that our customers need
Be a team player in recognition that trusted partnerships with customers are built on collaboration across functions and geographies
Be conscious that many of our customers have their own sustainability targets, and contribute actively to help achieve them




Constantly challenging
Being proud, but never satisfied, is the mind-set that drives us to perform better tomorrow than we did today.
Be proud of our successes, but never let pride turn into complacency
Be relentless in your pursuit of constant improvement – and accept no less from your colleagues
Be daring in your willingness to take calculated risks and determined to see them through. Learn from experience to be even better next time
Be motivated by making tomorrow's decisions and actions more sustainable and responsible than those of today



Inspiring confidence
Hempel trusts you to deliver against our promises, and to do what's right for our company, our customers and your colleagues.
Be honest, act with integrity and professionalism – and never do anything that could harm the Hempel name
Be dedicated to earning the trust of colleagues and to giving trust in return
Be reliable in everything you do. Stand firmly behind promises and deliver consistently against them. Anticipate problems before they arise. If they do, be part of the solution
Be committed to delivering our promise of bringing customers the future of sustainable coating solutions


Socially committed
Trust Hempel to take care of you in the belief that people are our greatest asset. Care about the impact of your actions in return.
Be proud to be part of a company that cares, and treat your colleagues as you would like them to treat you
Be open to diversity and the new perspectives it brings. Support all colleagues in realising their full potential, and expect to be rewarded on the basis of contribution alone
Be aware of the difference our Foundation is making, and support its efforts to bring about positive change
Be aware of the impact of your work on the world around us, and do your best to ensure it is always positive
A global company with local agility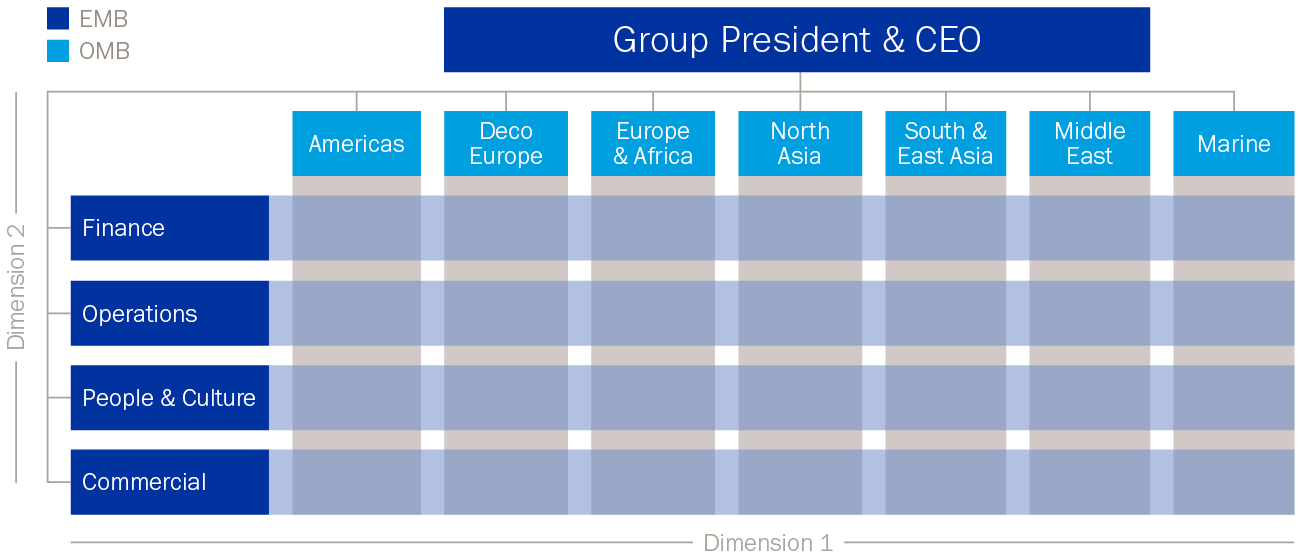 To ensure local expertise, global consistency and commercial agility, the Hempel Group is organised in two dimensions. Our regions support our customers, both locally and globally, and have responsibility for operational execution. Our group functions ensure process excellence and operational synergies across the Group.
We're proudly owned by the Hempel Foundation and governed by the Hempel A/S Board of Directors.
Our Executive Management Board

| | |
| --- | --- |
| Lars Petersson | Group President & Chief Executive Officer (CEO) |
| Lars Jønstrup Dollerup | Executive Vice President & Chief Financial Officer (CFO) |
| Pernille Fritz Vilhelmsen | Executive Vice President & Chief People & Culture Officer (CPCO) |
| Michael Hansen | Executive Vice President & Chief Commercial Officer (CCO) |
| Katarina Lindström | Executive Vice President & Chief Operating Officer (COO) |

Our Operational Management Board

| | |
| --- | --- |
| Todd Cottrell | Group Vice President, Americas |
| Mark Rees | Group Vice President, Middle East |
| Michael Mei | Group Vice President, North Asia |
| Pernille Lind Olsen | Group Vice President, Europe & Africa |
| Jonathan Mercer | Group Vice President, South & East Asia |
| Joe Devitt | Group Vice President, Decorative Europe |
| Alexander Enström | Group Vice President, Marine |

The Hempel A/S Board of Directors

| | |
| --- | --- |
| Richard Sand | Chairman |
| Eric Alström | Deputy Chairman |
| Karsten Munk Knudsen | Chairman of the Audit Committee |
| Leif Jensen | |
| Susanna Schneeberger | |
| Søren P. Olesen | |
| Helle Fiedler | Elected by the employees |
| Mark Terrell Sutton | Elected by the employees |
| Maria Gomis | Elected by the employees |
Hempel has been protecting assets for over 100 years. It was established in 1915 by J.C. Hempel in Copenhagen, Denmark. He was just 21 years of age at the time and had just DKK 300 in his pocket, but his idea to sell ready-mixed marine paints would go on to revolutionise the Danish marine industry. J.C. Hempel delivered the first order himself, riding along on his bicycle with the cans of paint dangling from the handlebars.
J.C. Hempel led our company for over 70 years. His belief that it's "the will to want that creates the skill to do" remains at the core of our company today. He also believed a company's greatest asset was its people. Despite global growth, we remain a small company at heart, where colleagues are valued and looked after.