Hempatop Repel 800 protects your offshore assets
Analysis shows that one of the primary causes of coating failure is water ingress through the coating system. We have developed Hempatop Repel 800 to address this challenge. An advanced topcoat with water-repellent technology, Hempatop Repel 800 actively repels water from the coated surface to protect the coatings and steel beneath – leading to significantly better protection for steel in offshore environments.
A breakthrough two-coat system for offshore structures
Combining Hempatop Repel 800 with our market leading activated zinc primer Hempadur Avantguard 770, our water-repellent system outperforms current three-coat systems in both durability and ease of application. The result? Faster application, outstanding corrosion protection and longer maintenance intervals.
The traditional three-coat systems used for offshore assets regularly show signs of early failure, leaving the owner facing unsustainable maintenance costs. The solution is a new two-coat system based on Hempatop Repel 800.
Faster application for lower offshore maintenance costs
Our water-repellent two-coat system can be applied in a single day, considerably faster than conventional three-coat systems, which can take up to four days to apply. This vastly cuts asset downtime during maintenance and reduces the need for overnight accommodation, leading to significant savings in both time and money.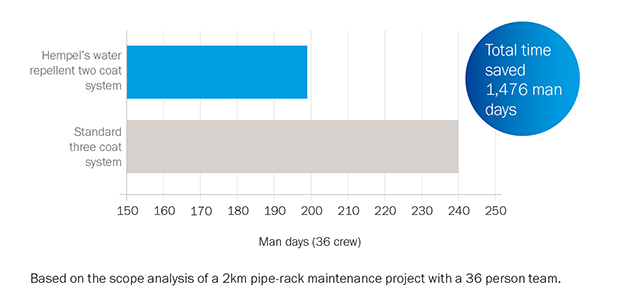 Proven superior performance
In extensive tests, our water-repellent two-coat system significantly outperformed conventional three-coat systems in offshore environments.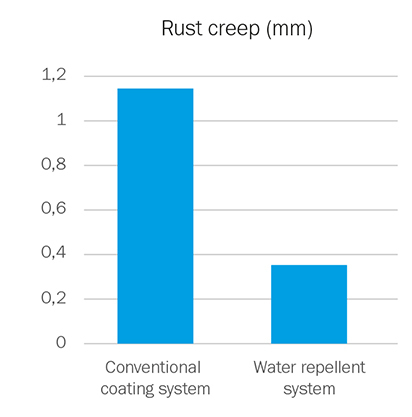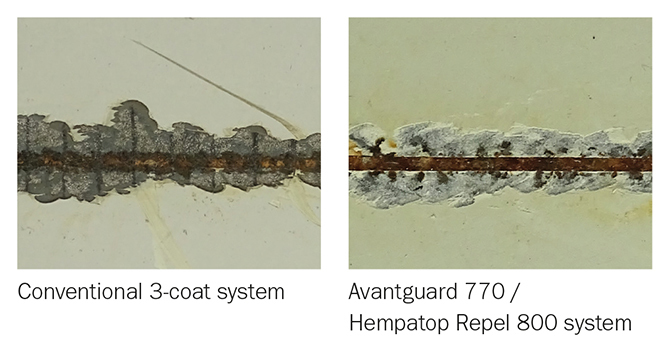 Water-repellent technology provides superior control of rust creepage at scribe by avoiding the evolution of corrosion, which ensures an extended coating lifetime despite accidental damage during service.
Testing done according to NACE TM0404 Section 7 (ASTM D5894) 1 week UV/condensation cycle + 1 week fog/dry chamber with synthetic seawater. Duration: 12 weeks.
Hempatop Repel 800's improved mechanical properties tolerate excessive dry film thicknesses in areas prone to over-application, which are particularly common during maintenance work.
ISO approved
Our water-repellent two-coat system meets the test requirements of ISO12944:2018 Part 9 for a CX category and is pre-qualified for NORSOK M-501 Ed. 6, System 1.