Get the most from your coatings 
From initial planning and specification through to application and final curing, our expert coating advisors ensure your maintenance and newbuild projects run efficiently and that your coatings are applied correctly – so you can realise the full benefits of every coating.
There are a number of Hempel Protective Services to choose from. Which is best for you?
Standard Coating Advisory
Ensure long-term coating performance.
We help you achieve a high-quality coating to reduce your long-term maintenance costs. Our coating advisors support you during the main project phases to help optimise the application process and ensure your coatings are applied according to specification.
Lower application costs and reduce asset downtime.
We provide complete application oversight and advice to reduce application costs and help ensure that your coatings will perform correctly for their entire lifetime. Our coating advisors are onsite throughout the project from surface preparation to final application – to improve quality and efficiency, and quickly solve any problems that may arise.
Future-proof your asset – to minimise downtime and maximise coating performance.
We manage the entire coating application side of your project, including scope check, preparation, coordination with sub-contractors, application and planning of future maintenance. You get a dedicated Hempel project manager to plan, manage and optimise all coating-related tasks – and ensure you benefit from a rapid return to service, lower project costs and reduced long-term maintenance.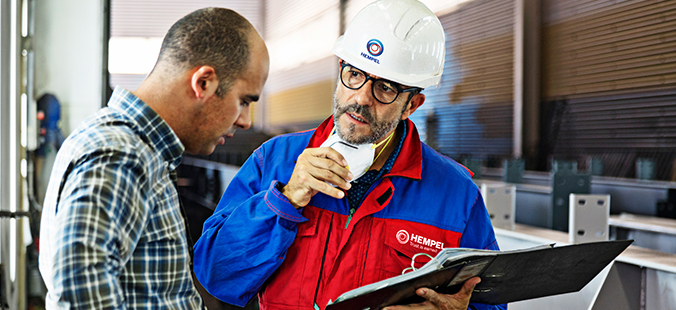 Boost your knowledge with our Hempel Protective Services brochure.