Increase your in-house quality and efficiency 
To remain competitive in today's business landscape, you need a strong team. You need to continually boost their knowledge and skills, and ensure they're working with the latest technologies and techniques. That's where Hempel's training courses come in.
From applicators and specifiers to superintendents and quality control personnel, our specialist training courses help ensure you benefit from faster, more efficient and higher quality coating application – every time.
What do you need to focus on? What surfaces or coating types do you work with? Are you looking to increase speed, efficiency or quality – or all three?
All our training courses can be tailored to suit the specific needs of your staff, business and project. They cover both basic theory and the latest developments in paint technology, surface preparation and application methods. And they focus on efficiency as well as application quality – to help your team increase throughput, reduce waste and cut costs.
Training for applicators 
Effective surface preparation and coating application are key to creating a high-performance coating system. Our training for applicators course gives your team the skills and knowledge they need to complete a high-quality coating application – efficiently and in line with specification to ensure the desired coating performance. 
Coating fundamentals training
Our coating fundamentals course covers all you need to know about protecting and maintaining assets in today's world, from specifying coating systems to identifying potential causes of defects. It gives you a thorough understanding of corrosion and coatings performance, including the latest advancements in coatings technology and legislation in your industry. 
Onboard maintenance training                  
It's essential that your vessels are maintained correctly between dockings. Our onboard maintenance training course ensures your crews can correctly, safely and quickly perform onboard maintenance – to ensure your vessels stay in 
top condition for longer, with the minimum of required maintenance when in dock.
Training for quality assurance and quality control
How can you make sure all work meets the required specification and quality standards? Our training for quality assurance and quality control covers everything you need to ensure good quality throughout a project, from understanding specification requirements through to surface preparation, application and inspection.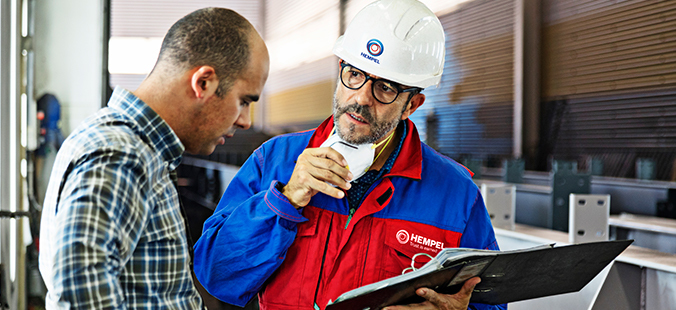 Boost your knowledge with our Hempel Training Services brochure.